Just thought you'd like to know.
I'd never even let it enter my line of sight, let alone cross my palate. Too green. Too mushy. Too weird looking.
I mean seriously, is this not the food of
the alien overlords
?
But all that is over now. (Look at me grow
)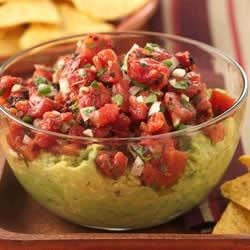 I'm now officially addicted to guacamole, with a layer of salsa on top, spread over sliced french bread. It's my new favorite thing to eat.
What's your newest favorite food? How about your tried and true favorite dishes? Lay it on me as I lay on some guac!