Welcome to Tongue In Cheek all you AtoZers! There are
so many awesome blogs to go and visit on this hop
. It's amazing all the things people are coming up with to blog about this year.
Over here at Tongue In Cheek, you're getting, "Ava's Backstory, Six Years of the Greatest Reruns this Blog Has to Offer." And boy are you getting an eyeful today. Yesterday, for the the letter O, I reran the announcement and recap of the day I became my county's 'Possum Queen. Today for the letter P you're getting...
The 'Possum Queen Swimsuit Competition
Yes, gentle readers, it's here.
The 2010 'Possum Queen Swimsuit Competition. Now, if you're about to eat, please be sure to choose 'Possum the other white meat, sorta- and stop back a little later. I wouldn't want to be responsible for any stomach illnesses due to the viewing of the following pictures.
With that thinly veiled warning in mind - let's get started!
Bib overalls were a popular choice that day, but SaraLee really pulled them off with her mullet combo.
As always in our scrappy little county, we had some do-it-yourselfers. With a bit of duct tape and a whole lotta ingenuity, there were some stunning pieces. But none so stunning as this bathing suit creation. BerthaLynn really went all out, didn't she?
Some of the judges/carny ride operators seemed pleased with the results too.
Darlene almost walked away with it with her Baywatch tribute.
So I knew I needed to bump up my game. I gathered my courage and decided I'd go . . . Topless. It was a little risque, but I thought it was tastefully done, don't you?
It seemed to please the judges...
Robert Sullivan

/

AFP - Getty Images file
because I was crowned later that day.
Not only were bathing suits abounding that day, but love was in the air. A sweet couple met the first evening of the County Moonshine and Fried 'Possum Carnival at the swimming hole.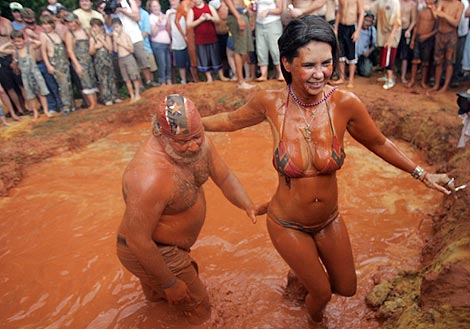 By the final day of the three day festivities, after much careful consideration, they decided to take the plunge right there where they first met.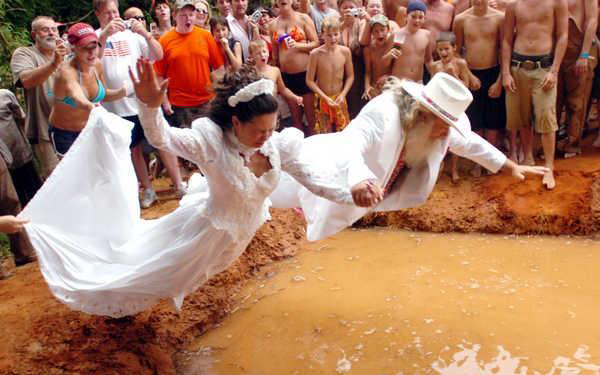 And in the end, a good -yet messy- time was had by all.